PAY PER CLICK
(PPC) SERVICES
Looking for a top position in search engines ranking? Why not consider PPC marketing? PPC marketing is an acronym for Pay-Per-Click. It's the traditional form of search engine online marketing. It's also the most basic, and most often talked about businesses when expanding online.
PPC advertising focuses on creating advertising, while targeting specific keywords in search engines. Your advertisement will then show up when those specific words in search engines are searched. This is actually what a lot of keyword research focuses on. Getting keywords with high traffic means that a lot more will see you search engine ad. Following that, for every click you get, you pay money. Thus, this form of advertising is called Pay-per-click. You don't spend money, until you get clicks on your advertisements.
CERTIFIED
PPC CONSULTANTS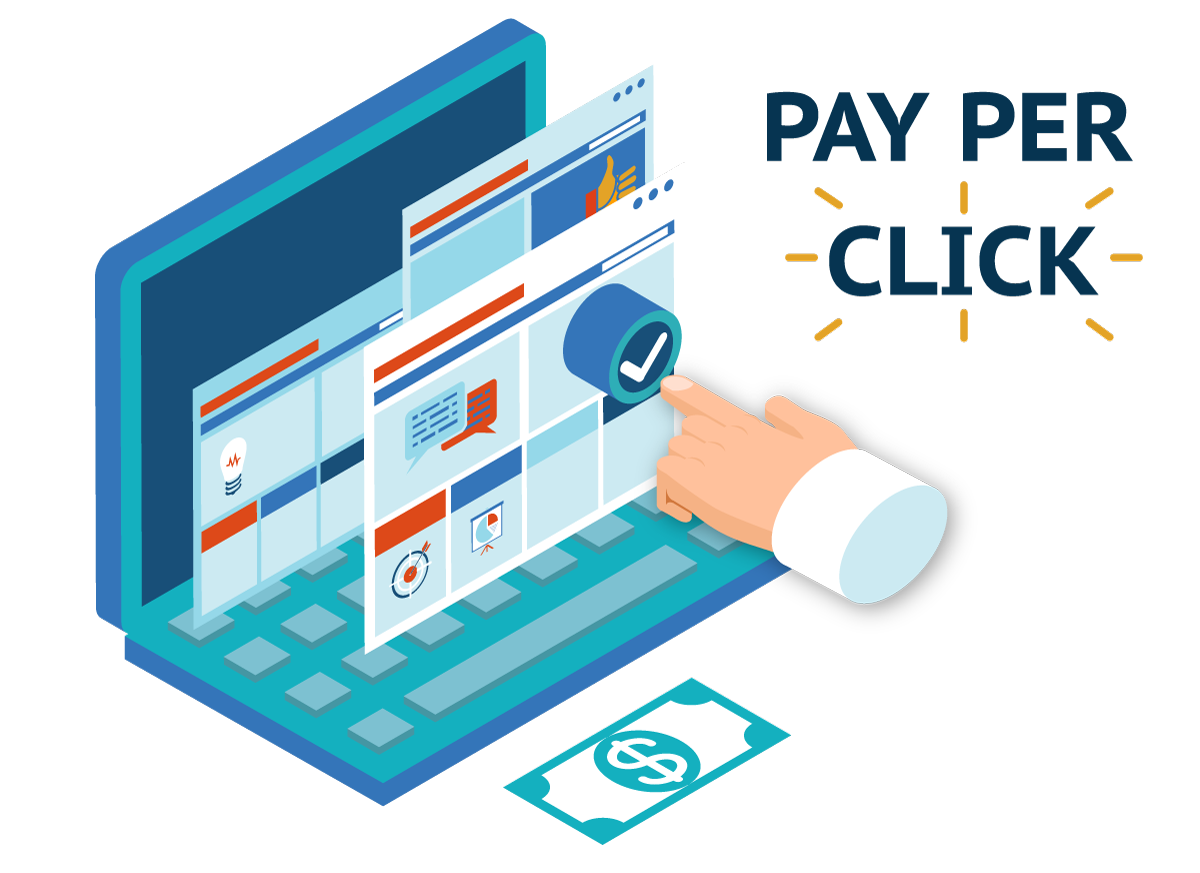 PPC's Popularity
Pay-Per-Click has turned out to be a need for many businesses vying for high search engine ranks. This field of advertising is so popular that endless information exists on effective PPC advertising. Also, there are many online media forms to explore when going for PPC marketing.
You see, PPC marketing isn't just done in search engines. A lot of major websites provide PPC services too. Chances are that you may have considered creating campaigns on those websites. After all, those major websites get a lot of their revenues from PPC campaigns. For example, websites such as Facebook, Twitter, and Instagram offer PPC advertising options. Those are major social media websites, which you can use to post advertising, while getting a lot of traffic at the same time.
Unfortunately, this aspect makes studying and perfecting PPC marketing complex. There are so many websites you can advertise on, in addition to the search engines. Additionally, the keyword research process is delicate. Picking the wrong keywords can create a failed advertising campaign, kill your marketing funds. Thus, you need a specialist to help you out. You need a PPC consultant who has the deep expertise and up-to-date information to create effective campaigns for you. Good pay per click management services aren't automated in everything they do. They have to update and refine their techniques on a continuous basis
It's a specialty after all.
For example, new tools to help keywords research are constantly on the rise. Excellent pay per click management services are always aware of new technologies to optimize your keyword research process. Additionally, a PPC services company understands the art of reading keyword trends. A good PPC services company can pick the best keywords out of hundreds to run your advertising campaigns. The accuracy of a PPC consultant is not something you can acquire alone. That is because you're a busy person yourself. There are a lot of logistics to take care of when running your own business. You may lack the time to learn the art of PPC from scratch.
This is definitely a job that you should outsource to someone else.
So Who Can Help Your Business Out?
We have a team of qualified PPC consultant who can help you out. They'll effectively optimize your advertising as your business needs.
How to create a campaign:
Choose a right keyword which has to appear in your ad.
When someone is searching for this keyword your ad appear next to search results.
You only have to pay if your ad is clicked.
We will make your advertising easy and effective. Also, the services we provide are very cheap. We provide one of the most affordable PPC services on the internet. If you're looking for a budget marketing company to do your campaigns look no further. Our affordable PPC services will make sure you don't spend hundreds, if not thousands of dollars, on less effective consultants.
Also, the money you spend really saves the hours of having to learn PPC marketing. You'll possibly spend dozens of hours learning PPC, and hundreds more tracking updates in PPC technologies. If you're a business owner, your hours count for a lot of money. Possibly, your hour may cost 100s to 1000s of dollars (depending on what you sell).
We're experienced in PPC
We're experienced in:
Google Ad Words.
Google Paid Ads.
Bing Paid Ads.
Google Merchant Center.
Facebook Advertising.
LinkedIn Advertising.
Instagram Advertising.
Twitter Advertising.
YouTube Marketing and Video Promotion.
Redefine SEO will help you to
Create a campaign.
Create and track remarketing campaigns.
Optimize an existing campaign.
Track your goals and conversions.
Track your audience based on gender, location, age group etc.
Create mobile-friendly ads for smartphone users.
Of course, if you have further inquiries, we'd be happy to help you out. We can provide you more details, and explain to you what to expect from our services in-depth.
Perfect SEO Experts!
it was my first time and I am so happy to found professional and responsive company. They took their time to really understand what I was asking for and showed us their solutions to my explanations until it was perfect. The communication was great and their support was very kind and competent. A pleasure to work with them.!
John Doe
/
Senior Business Analyst
Result Oriented SEO Company
After being in contact with many SEO Agencies to fix an issue with my website, Redefine SEO was the first to fix the issue with utmost care and professionalism. Definitely recommended them. if you're looking for someone who is competent in SEO, SMO.
Carlo Ceroili
/
MD
Highly Recommended
One of the absolute Best SEO Company I've ever worked with. They understood my requirements, gave suggestions, and was super patience with all the back and forth. Highly recommend him!
Smith Roggers
/
CEO
Very High Quality Service
Five Star.. Five Star.. Deliver a very complex work in quick time. Even with several revision requests. Very professional, understanding, dedicated, determined to provide the best services digital marketing company can offer.Very High-quality backlinks. Very professional and excellent communication.
Jason William
/
CEO / Owner
Best PPC Consultants
You guys did such an amazing job. Thank you so much for all the hard work you put into making this happen for me. I'm sure that with your service(PPC Consultant) my business will do well. Thank you again!
Terry Shuhi
/
Marketing Manager
Fast, Professional and Kind
Returning client.This is my 2nd time and I really enjoy working with Redefine SEO. They are knowledgable, efficient, Affordable SEO Provider and has done a great job for us every time. We appreciate there time in care in making our website SEO-optimized. Looking forward to working with them again in the future!
Mel sharell
/
CEO
Complete Digital Marketing Solution
Redefine SEO did everything promised and reported back in excellent details all the work undertaken. Redefine SEO has been very courteous and responsive to my concerns. I appreciate the work they did and highly recommend their digital marketing services
Up Media Lab
/
Company
Free PPC Quote
+ 47,686
quotes already sent