SEO &
WEB DESIGN SERVICES
If your website isn't compatible with mobile devices, you're in trouble.Research shows that around 60 % of all traffic comes from mobile devices.  The majority of people today use laptops and computers less for surfing the internet. If you want to get higher conversions, you must make your website mobile compatible.
Compatibility means that the load time of your website should be high. Your internet surfer shouldn't have to suffer, simply to get a peek at your domain. Additionally, improving compatibility involves controlling the website design to reduce excess features that make surfing difficult. Unfortunately, a lot of businesses tend to skip out on compatibility in design, in favor of looks. This is a mistake you should not do.
Think of Those Who Surf Your Website
There are 2 types of traffic you want incoming to your site. The 1st is customer traffic. The 2nd is networking traffic.
Customer traffic is obvious. You want people who check out your domain, feel excited about you offer, and then buy. But, do you think that customers will buy (or even surf) a website that isn't compatible with their devices?
Absolutely not.
Consumers who serve the internet today are kind of impatient. If the website loads too slowly, you won't get viewers. Your customer will be repelled, seeking your competitors instead.
Thus, instead of focusing exclusively on website looks, you should look more into e-commerce website designing. You must optimize your website for e-commerce, attracting as many clients as possible.
As for networks, we speak here for suppliers and possible business partnership. If a supplier or potential partner goes to your website and finds incompatible, they'll forget about you. It's too much of a hassle caring about a business that doesn't care about itself.
After all, no one wants to work with a business that can't bother to optimize its domain.
As a result, you lose out on a lot of business opportunities. Potential people who could help expand your business see as sloppy. You'll stay behind in the competitive internet race, with no one to help you.
A non-responsive website after all can be faulty in many areas of its coding. For example, let's say you have a contact form set up in order to attract inquiries from clients and suppliers. If the contact form doesn't work (due to negligence), then who will contact you?
You can't do changes to your website without first optimizing it.
Let's say you want to post new content or add new ads to your website. Will that be possible when you lack an optimized website?
Definitely not.
Optimizing your website for responsiveness usually involves making tweaks to your website design. You cannot proceed to fill your website with content without optimizing for responsiveness.
This doesn't mean you have to delete older content. It's simply more difficult to improve responsiveness when you've added way too much to your website.
Thus, getting a website designing company to help you out is important. You'll need responsive website designing services before advancing towards SEO optimization and creating content.
So Who Can Help Me Optimize My Website?
We will help you to optimize your website for mobile and tab devices.
Responsive website design is a type of service which molds your website to the resolution of mobile devices. Thus, it promotes a user friendly browsing experience. This means that any mobile user can visit your website without loading problems on their devices.
Don't worry though about a good design. Our focus is on optimizing your website's looks without sacrificing anything related to good design. Your website will look sharp and amazing.
Here's How We Can Help You.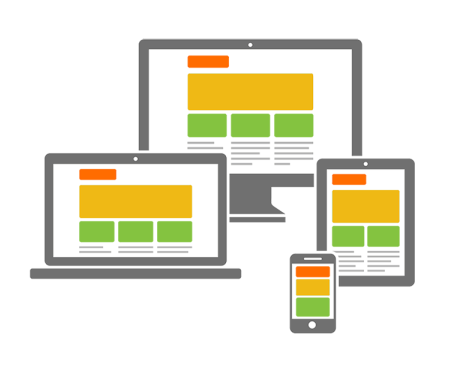 We can create a beautiful well-optimized site designed for PC and smartphone interfaces.
You can choose and customize your website's look as you wish. The optimization process occurs after designing your website.
Thus, not only does the optimization focus on looks, but also on maximizing conversion from search Engines.
Our responsive designs include a leads generation form, allowing your visitors to contact you. It eases the process of generating leads for your online business.
We Offer Affordability
Customizing a website isn't easy. There's a lot of customer communication that happens when customizing. After all, we cannot simply finalize and changes without your final decision.Thus, responsive website designing services take a time to complete their tasks. This usually means that a website designing company will charge outstanding amounts simply to deliver.It will be a problem, especially if you are a startup business and lacking funds.Fortunately, we offer affordable web development services to you. Our affordable web development services ensure that you do not waste excess funds to optimize your website.
Perfect SEO Experts!
it was my first time and I am so happy to found professional and responsive company. They took their time to really understand what I was asking for and showed us their solutions to my explanations until it was perfect. The communication was great and their support was very kind and competent. A pleasure to work with them.!
John Doe
/
Senior Business Analyst
Result Oriented SEO Company
After being in contact with many SEO Agencies to fix an issue with my website, Redefine SEO was the first to fix the issue with utmost care and professionalism. Definitely recommended them. if you're looking for someone who is competent in SEO, SMO.
Carlo Ceroili
/
MD
Highly Recommended
One of the absolute Best SEO Company I've ever worked with. They understood my requirements, gave suggestions, and was super patience with all the back and forth. Highly recommend him!
Smith Roggers
/
CEO
Very High Quality Service
Five Star.. Five Star.. Deliver a very complex work in quick time. Even with several revision requests. Very professional, understanding, dedicated, determined to provide the best services digital marketing company can offer.Very High-quality backlinks. Very professional and excellent communication.
Jason William
/
CEO / Owner
High Quality Backlinks
Love the work Redefine SEO provides! They include a very detailed document with all of the relevant information for High-Quality backlinks. Professional team, great work and perfect communication. I have worked with them on several projects. Highly recommended...!!!
Andy Stevens
/
CEO
Responsive & Professional SEO Company
I am clueless when it comes to SEO.So I'm satisfied that I came across Redefine SEO, We had great communication. And assisted along the way through the process. I would recommend Redefine SEO for your SEO services. They are Affordable SEO Provider, Quick, Professional. Definitely recommended. Thank you Redefine SEO!!
Marvis Dani
/
Marketing Consultant
Affordable Local SEO
Great communication and hard working team. This is the 2nd month of Local SEO services 7 out 10 keyword is in number 1 now (great services) I see a lot of improvements on my Google rankings, I have also noticed some improvements on the google maps section some zip codes from position #4 to 3rd position. There is still a lot of work to do. but I see great progress I will keep post the results for the 3rd month. 100% result oriented & Affordable Local SEO Services...!!
Daniel
/
Sales Team
Fast, Professional and Kind
Returning client.This is my 2nd time and I really enjoy working with Redefine SEO. They are knowledgable, efficient, Affordable SEO Provider and has done a great job for us every time. We appreciate there time in care in making our website SEO-optimized. Looking forward to working with them again in the future!
Mel sharell
/
CEO
Complete Digital Marketing Solution
Redefine SEO did everything promised and reported back in excellent details all the work undertaken. Redefine SEO has been very courteous and responsive to my concerns. I appreciate the work they did and highly recommend their digital marketing services
Up Media Lab
/
Company

Get More Sales From Your Website!
Request Free Website Analysis & 

SEO 

Quote